Security and privacy are two critical issues for users. If there is one thing that can help preserve both, it is the use of passwords.
Our accounts, equipment, records… Everything has keys, which have to be as complicated as possible. 
Today we are going to explain how to encrypt folders in Windows easily.
File locking software is undoubtedly more advanced on the Windows market today than any other software.
However, efficiency purely depends on the efficiency of the software.
Not all locking solutions are created equal, and hence, it is crucial to find the right solution that works for you.
Many hiding tools for files are highly-priced, and expensive solutions do not always deliver superior performance.
The fantastic benefits of file locking software can be experienced only with the right product.
Why Folder Locker Software for Windows!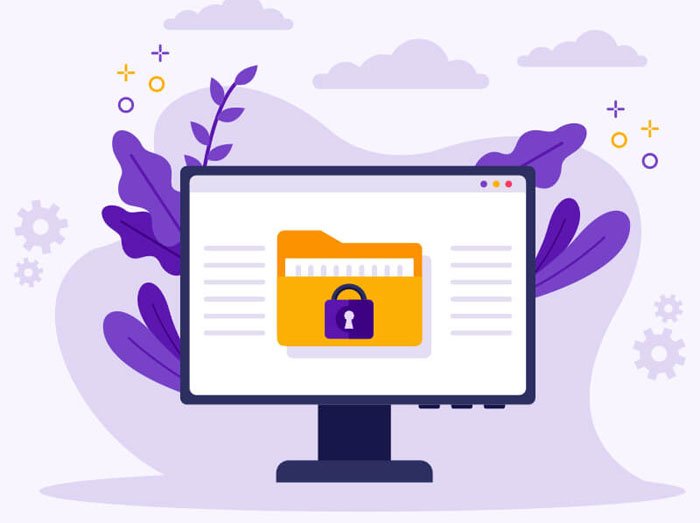 Lock File Software Makes Folders Invisible And Inaccessible
You can't avoid storing important and confidential data on your personal computer.
Windows OS offers virtually a weak way to cover files and directories, which is not sufficient if your data can't be secured seriously.
Even if you think you are the only one to access your computer, you can't always be sure.
To secure confidential information, if you try to put the files out of sight, it won't good idea.
You have to disable or restrict access to the folders without your permission. Here is where lock file software becomes useful.
If a folder locking software is put to good use, data-stealing can be avoided. Any file type you can think of can be hidden, such as videos, word, excel files and many more.
Folder Locker Software is available for everyone who wants privacy, and data protection is now crucial.
The best part of folder locking software is that it's easy to use. To use the software, you do not need any technical skills.
If you want peace of mind that your folder is inaccessible without authorization, you can use lock file software to lock the files and folders. You can apply the lock for individual files or folders.
The lock software provides Windows users with the facility to always keep their files under wraps.
And if the user is an administrator, no unauthorized user would be allowed to access the files.
The Folder locker software can be used on both home and business computers and running in stealth mode as well.
How to put passwords on folders and prevent potential intruders from opening them.
For this, we are going to name a very interesting and easy to use program that will allow us to achieve our goal.
Let's talk about Best Folder Lock Software – Anvi Folder Locker .
Anvi Folder Locker Review
You can try the free Anvi Folder Locker, which allows you to lock folders and files easily.
Anvi Folder Locker Application is free security software that defends customer's data like PDF files, videos, & audio files, you can also hide them so that only you can see them.
The idea of Anvi Folder Locker is based on a password set to completely lock and lock files as shown in the pictures.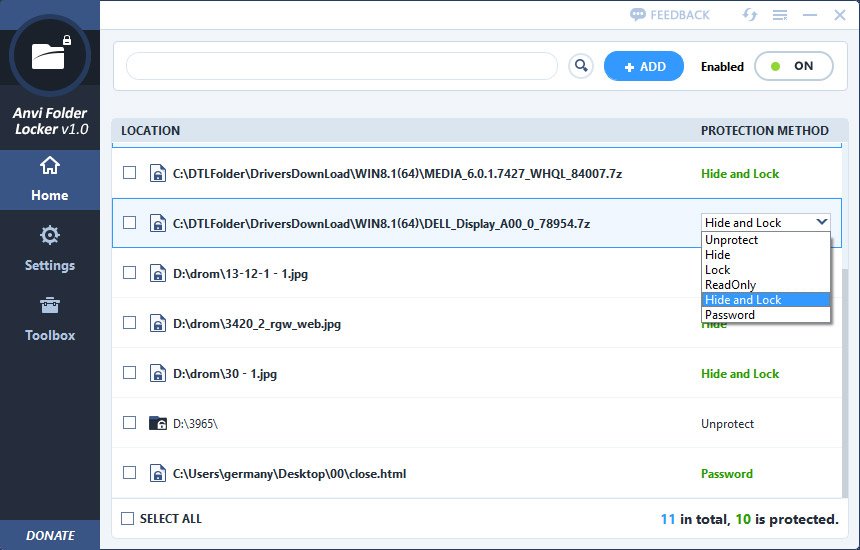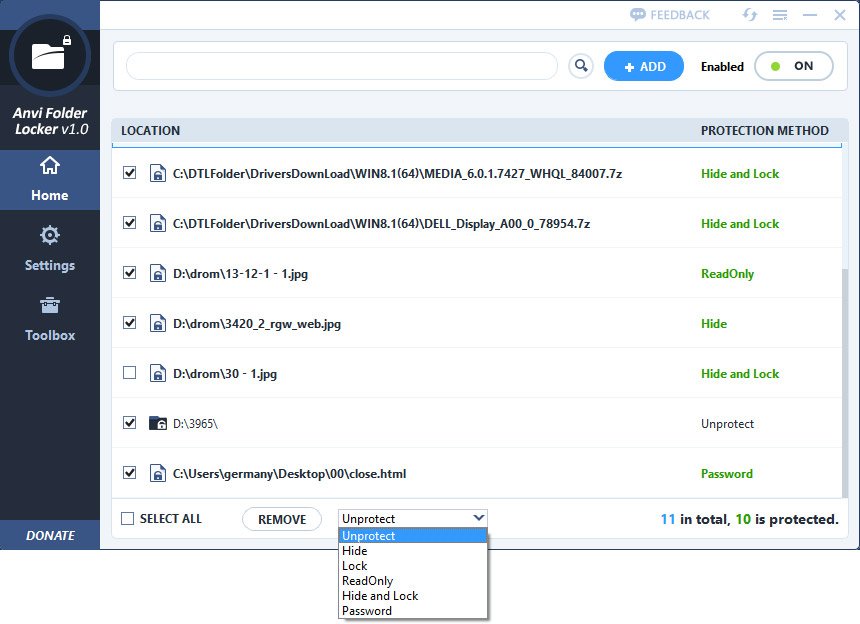 In addition, via the software, you can allow entry to the essential files in order to avoid modification and misuse and avoid deletion by someone who does not use the computer.
This locking software can protected important folders in Windows 7 to Windows 10.
No one can access these secure data files and folders, and your information is completely secure.
Anvi Directory Locker Application has many features such as keeping your data files secure from being adjusted so that no one can access these data files or erase data files.
Anvi Folder Locker software allows a number of customers to keep data on a single PC without losing information security.
If you want to keep your details private in cases where you have many users or have highly confidential details, Anvi Locker is an essential security tool.
This application is very lightweight software and has the best interface to all the newest and most recent tools and software.
And the folder is permanently locked until you remove the password.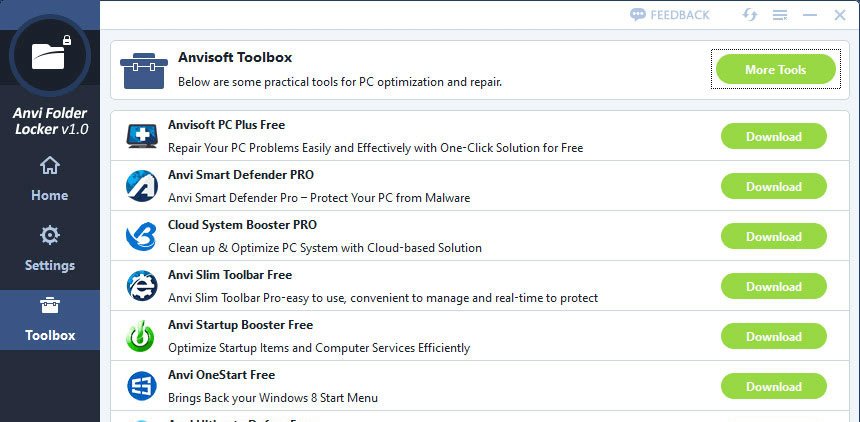 Anvi Folder Locker Best Features
You will be requested to set a master password when you first launch the Anvi Folder Locker.
The software also needs a valid email address, but only if you forget your master password, then the email address will be work. This is an innovative idea as other folder locking software don't offer a way to retrieve a master password.
If you have ever forgotten your master password, you can use your email address to reset it.
The other cool feature about Anvi Folder Locker is that it adds Lock to the context menu using Anvi locker, so that you can lock files easily, without having to activate this software manually.
There is an option in the Settings to delete 
the function from the contextual menu for people 
who are not interested in this context menu feature.
After Anvi Folder Locker Download, you can enjoy the following features along with many others.
100% Data protection and privacy
Very attractive and easy user interface
Best compatibility with all operating system
Hide sensitive files and data
Attribute of folder to ReadOnly, users able to see the contents of the folder but can not modify or delete them
Users who want better security can set different passwords for different folders.
Automatic updates to make user data more secure
Folder permissions to stop others from viewing, modifying, and deleting files
Set password to files audio video and even on folders and drives
The software is compatible with Windows 7, Windows 8, Windows 8.1 and Windows 10.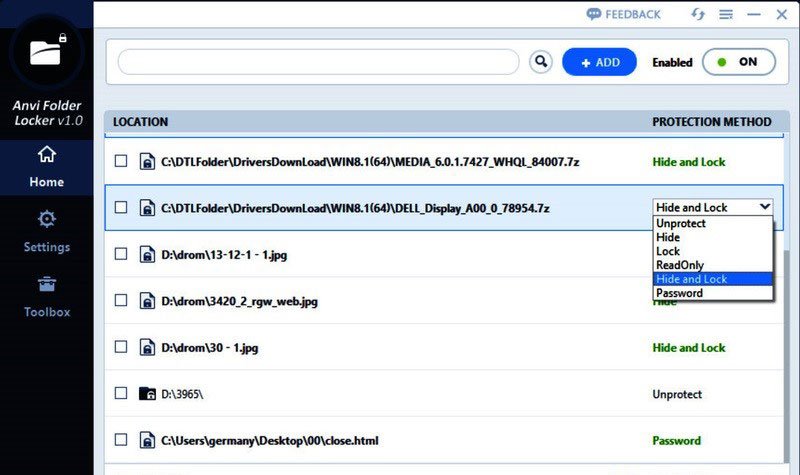 Minimum System Requirements for Anvi Folder Locker
Before starting Anvi Folder Locker Download, ensure the following device specifications are eligible.
Operating System: Windows 10 / 8.1 / Win 8 / Win 7 / Vista / XP
Memory (RAM): 512 MB or above
Hard Disk: 50 MB Free Space of Hard Disk
Processor: Intel Pentium Core i2 or above
How to Download Anvi Folder Locker
You can find this software on various websites, but Click here to Download Anvi Folder Locker for the best and reliable source without any issues.
How to Set Passwords to Windows Folders with Anvi Folder Locker
There are many ways by which I can password protected folder in Windows.
Some many tools and programs allow it. Even the operating system itself has its resources.
I have tested the Anvi Folder Locker, a free program. 
Its mission is to put passwords to the Windows folders that I want to protect.
Anvi Folder Locker can be download for free. Its use is quite intuitive and straightforward.
When I installed and opened it for the first time, it asked me to enter a master password.
Besides, I have to set up an email account to recover the password in case of forgetting. (one of the best feature which I liked)
It offers different options for each folder. I can put a password, which can be the teacher or use a different one.
I can also block that folder, and it can only open if I enable it from the application, as well as hide it, and it does not appear on my computer.
Modify how it acts on each Folder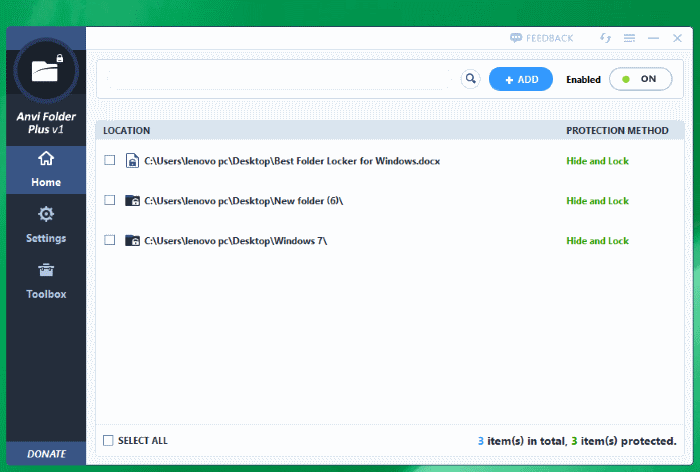 How it acts on each new folder can be modified. 
For example, if I want to protect the folder, it asks for a password or to hide it automatically. 
I can modify that to put the default value in each new folder that i choose to protect.
Also, whenever I want, i can change the master password. 
I already know that it is interesting to change our keys frequently to increase security.
For this, I simply go to options, in the corresponding section, I enter the current password and under the new one that I want.
In the start section, within the application, I will see a list with all the folders that I have added. 
That is, here are those to which I have put some type of protection with this program.
A way to have everything under control in one place.
Simply by clicking on the options of each folder within the Anvi Folder Locker, I can change the values. 
I can go from having the folder with a password to having it hidden, for example.
My advice is to enter a password that is strong and complex. Must avoid entering things like our name, date of birth or phone number.
Letters (uppercase and lowercase if possible), numbers, and other characters should always be used.
In this way, you make the task difficult for possible intruders who want to enter password-encrypted folders.
I can apply this to any type of account or record I have.
How Anvi Folder Locker Remove Master Password
Here it solved this problem.
Most users had forgotten the master password of anvi folder locker. You can succeed by following these steps:
Open Window in Safe Mode.
Simply go to the folder. It will be opened!
Just copy all the files to another folder.
Now you can easily able to open and use those files.
How to Uninstall Anvi Folder Locker without Password
Manually Uninstall Anvi Folder Locker 1.1 with Build-in Uninstaller.
Most computer programs are installed with its build-in uninstaller that can also help uninstall the program.
Click Start menu and move your mouse to All Programs.
Find Search Anvi Folder Locker 1.1 folder and click on its Uninstaller.
Follow its uninstaller and uninstall the program.
To run its uninstaller, you can also
Go to the folder where the program is installed.
Locate its uninstaller usually named as unins000.exe or uninstall.exe
Double click on its uninstaller and follow it to uninstall the program.
Please know that Windows "Add/Remove Programs" and its build-in uninstaller can remove only the main executable program files, but not all program files and components.
Some invalid files can be left in the registry and folders.
To completely uninstall Anvi Folder Locker, you need to get rid of these remnants, otherwise, it will slow down your computer and block the installation of other incompatible programs.
To thoroughly delete its files, please follow the steps:
Run Registry Editor
Find and delete all registry entries of the program in HKEY_CURRENT_USER\Software\Anvisoft\, HKEY_LOCAL_MACHINE\SOFTWARE\Anvisoft\ and HKEY_LOCAL_MACHINE\Software\Microsoft\Windows\CurrentVersion\Run\
Find and delete all files of the program in system folders C:\Program Files\Anvisoft\, C:\Document and Settings\All Users\Application Data\Anvisoft\ and C:\Documents and Settings\%USER%\Application Data\Anvisoft\.
NOTE: We recommend only for advanced computer users, manually edit the registry and remove Anvi Folder Locker because deleting any single registry error leads to a serious problem or even a system crash.
Anvi Folder Locker Reset Key
How To Unlock Anvi Folder Locker If Password Forgotten In Windows
This video will help Anvi Folder Locker users remove passwords from protected files and folder. 
This video is based on a Windows 7 computer. 
However, for Windows 8 and Windows 10 users, the process is pretty much the same.
You can unblock secure folders and files by running Windows in a safe mode.
The safety of Anvi Folder Locker in safe mode is not working.
Everything you have to do is copy protected files and folders and then restart your PC for usual boot after booting in safe mode.
It removes protection.
Move only works for protected folders not for protected files. You can cut paste files
from protected folders.
You will have to copy protected files to remove Anvi Folder Locker protection.
To boot Windows 10, 7, or Windows 8 in safe mode, Go to start menu and search for System Configuration.