What Is Clickback?
Clickback WEB and MAIL is the world's first cloud-based B2B lead generation software. It can also track & targeted send emails to potential decision-makers of companies who recently visited your site with their names and didn't convert.
Clickback WEB: You can turn anonymous visits to your website into sales who visit your site but do not convert. it turns anonymous web site visitors into sales-ready leads.
Clickback MAIL: You'll have the opportunity to push more leads into your sales funnel by emailing cold contacts and converting them into quick, opt-in leads.
Clickback Email Marketing Review

Hard work of years has to the creation of the versatile email sending app the helps the web developing clients in generating the leads.
An email generating software made especially for the B2B lead generation that provides you with a range of incredible features.
An all-in-one marketing software that allows you to organize and keep the records of your buying and selling.
It provides you with a bucket full of Amazing Features.
It cleanses your import list to give you perfect results.
Whenever you place your purchased or sold list in this software, it undergoes a variety of checks to detect any spam; it then removes all these infected emails leaving behind the good ones.
It makes sure your emails get to the actual person.
Within minutes you can create professional-looking emails. Either you can choose from one of its designed templates or can simply and directly upload your HTML in it.
For those who have no idea about the coding, it provides them with the drag-and-drop editor.
It allows you to create highly-professional looking campaigns with the addition of your name, your company name, your company number, etc., to boost your conversation with your client.
It also allows you to further enhance your ROI with the help of its unique campaign reports.
It will enable you to view the tailored reports easily and analyze their opt-outs, open and click-through rates, critical data, and much more.
A very safe and secure software that provides you protection for all sorts of fake and spam emails.
Targeted emailing very easy. It is handy software and helps the B2B companies to grow.
Clickback Mail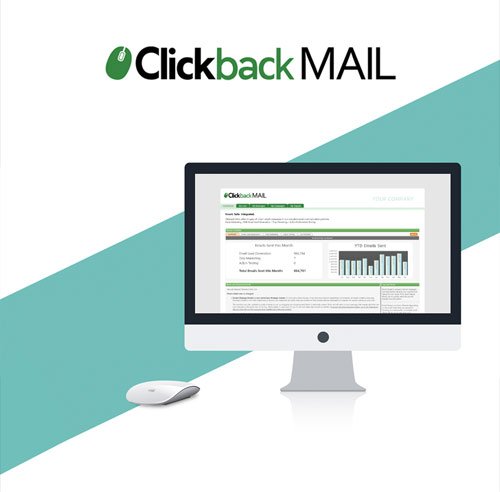 A very versatile software that allows you to convert your cold contacts into the warm B2B leads.
Clickback is a powerful email lead generation software that allows your email list of cold contacts and converts them into a warm opted-in leads.
(Convert all the anonymous visits into the sales prospects.)
It provides you with a very versatile tracker that can track all the companies that visited your software but did not buy a thing with their names.
It's protected for all window shopping users and only allows severe and interested buyers.
ClickBack stops unqualified Buyers that do not fit in your ideal buyer persona. So, that you can spend a very minimal amount in chasing the unqualified leads.
It allows you spam-free emails and email complaint campaign for your cold or your purchased B2B Contacts.
It also detects and follows GDPR (EU privacy law) all the European and Canadian emails that assure according to the anti-spam law.
It is a very versatile software and plays an idea role in the growth of your B2B lead marketing.
Protects you from all the fake emails. It makes sure that your emails are sent to the actual person instead of the spams.
Clickback Reviews

Clickback, a globally renowned and legendary software that plays an ideal role in the growth of B2B companies.
It is a completely trusted software and has millions of users all around the world.
It has gained the trust of it, users, by its spam-free emailing and tracks web visitor's incredible features.
It is a very known and appraised software in the industry. Clickback satisfies all the needs of its users and provides them with all the in-demand email & tracking functions.
This cloud-based software helpful real-time information that makes it very easy for you to gather, filter, and sort the data.
Clickback now provides you with insights into your customer preferences that allow you to use the data for multiple projects efficiently.
The best thing is not only for one company, but you can use it in several systems simultaneously. It is the best software you can ever ask for to automate emails and to reach them to their particular target.
It allows you to view the list of various companies that are currently visiting your website their artificial intelligence features that help you in creating professional-looking emails.
Clickback Email Software: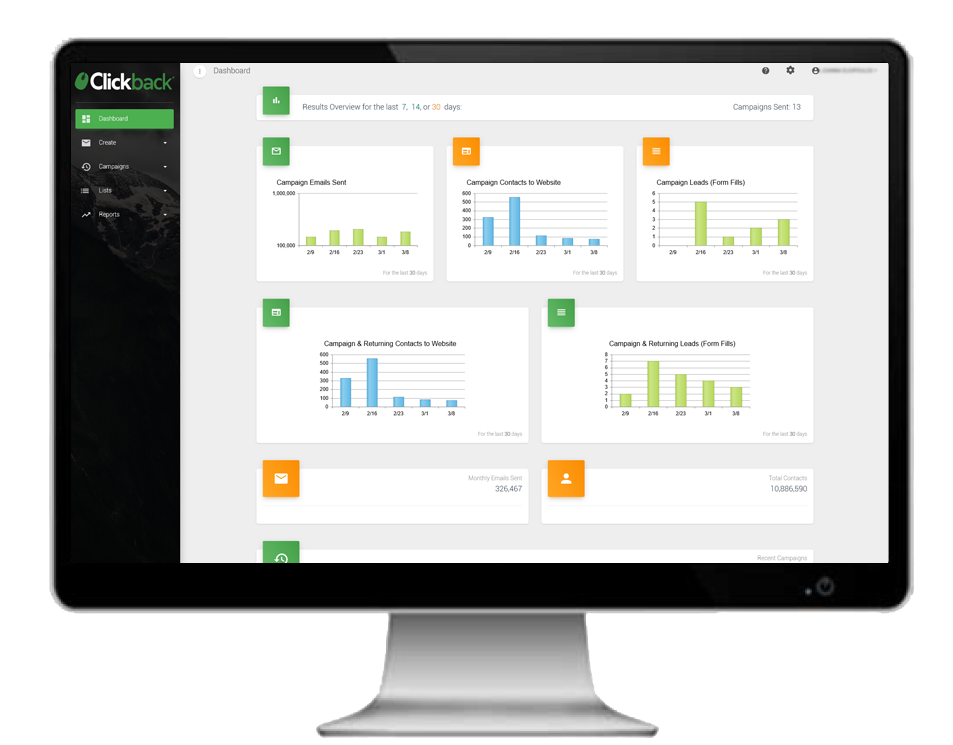 Clickback email software is a simple and fantastic message creator that allows you to design and style professional-looking emails.
Creates emails that attract & eye-catching.
It also provides you with a variety of templates that helps you in designing professional emails along with the usage of drag and drop editor for those who have no idea about the use of codes.
It cleans your import list.
When you place your purchasing list in this software, it deeply goes through it and runs several tests then scans all the spam and fake emails and removes them.
The sole purpose of this software is that the emails reach the actual person instead of some fake one. Clearly showing its more improved campaign ROI service.
It also provides you with the privilege of autoresponders you can set up professional email.
With its autoresponders feature, this software will automatically send these emails to your selected contacts. Enhance your conversation with your clients by boosting and improving your campaigns.
It allows you to create tailored reports that will analyze the working of your campaigns. It helps you in maximizing the effectiveness of your work as every variable will be under observation.
Clickback WordPress Plugin: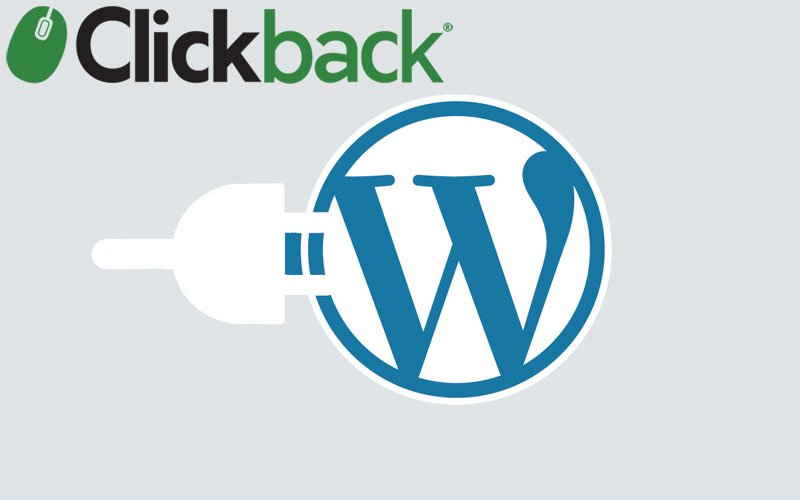 Plug-in in terms of computing means any software component that adds more effectiveness and specific features to your current existing computer program.
Please click to Download Clickback WordPress Plugin
Plugins are of two types of web browsers and WordPress. Clickback provides you with WordPress plugins, which means that along with all its features, it offers you with additional plugins that enable you much more productive working.
It adds special features to your original program. Plugins are the software that enhances your work but is not made to be displayed.
WordPress is a great blogging website that provides plugins to many small businesses in helping the growth of B2B Lead generations.
WordPress plugins play an enormous role in the growth of your business. Now more finest of the fine thing is that clickback comes with the WordPress plugin support.
How To Change The Subject Line Of Emails In Clickback?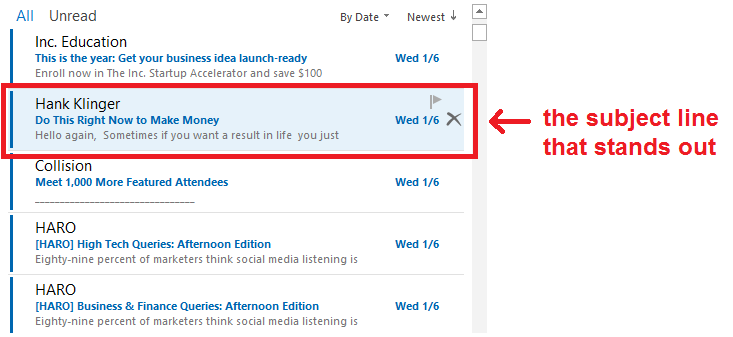 The subject line is considered to be one of the essential things in email as it determines whether your email is opened and how the reader will respond.
Subject line holds of a significant place in emails as an email without a subject line is likely to irritate the recipient instantly, is deleted, or is lost.
An email with a blank subject line provokes the reader that forcefully opens the email to figure it out, and the chances are that he rejects the email.
Your subject line is the introduction of what you want to say.
Your subject line should be so good that the reader is attracted and is forced to read your complete email.
If your subject line is wrong, then there is a 40% chance that your email will directly be rejected. It conveys the idea of your message that you want to say to the reader.
You can easily change the subject lines of your emails in click back by simply double-clicking on the email to open it.
After that, you select the subject line and just remove it. Then you will type your new subject line that would be professional and attractive.
You must click the save button that is on the top left corner on the message window and then close the email, and thus, your subject line is changed.
How To Cancel Clickback Rebills?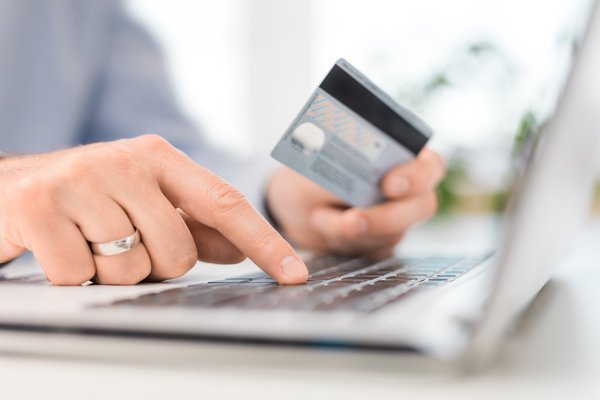 Clickback an email marketing software that provides you protection against the spam emails as well as plays an ideal role in the growth of your B2B lead companies.
The payment of the clickback is automatic. It automatically monthly cuts the amount from your credit card or PayPal.
So, in this case, you are not disturbed monthly, and your payment is made automatically, but in case if you want to cancel your Clickback rebills.
IF using credit card: You can contact your bank so that they can cancel the further rebills.
IF you are paying through PayPal: Then you can follow here for further cancellation process.
If not canceled, later every month, the payment will be deducted from your credit card either you are using the clickback or not.
You can contact directly to the clickback and cancel the rebills of your software, or you can contact the bank and cancel your monthly rebills.
There does not require any complicated method to cancel as it is straightforward software and works to help you but not to make things complicated for you.
Clickback Pricing: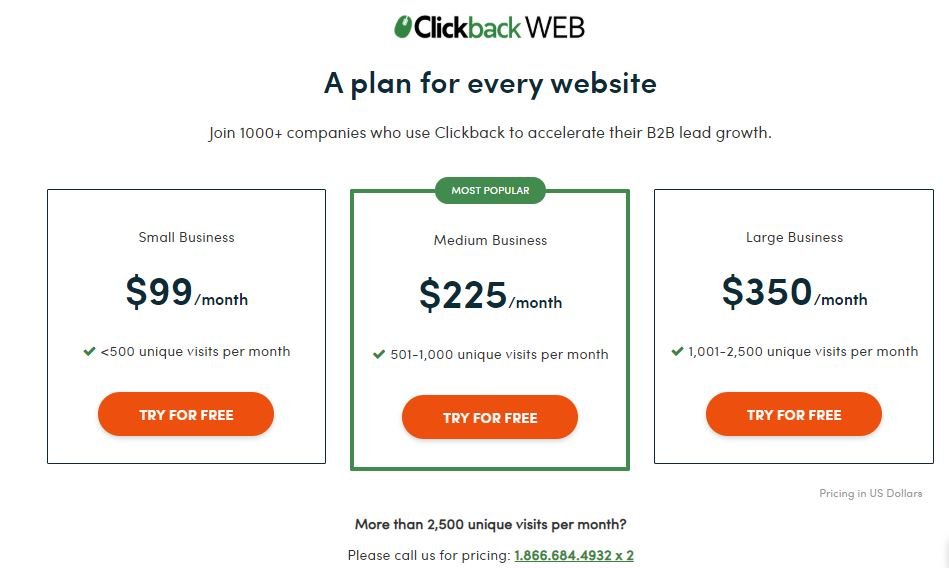 Clickback prices vary as it depends on the software you are using.
It has different prices for all its various programs. Either you are buying it monthly, or yearly the amount varies.
For instance, the amount of Clickback Mail depends on the size of your list and volume of emails you send each month.
The number of emails you send through clickback costs payment according to the quantity you are using.
For the customers using the ClickBack web. Their pricing depends on the amount of traffic they get on their website. It also depends on the number of leads they purchase each month.
The pricing for web users depends on the traffic. Clickback software has different plans for payment so that users can select any program that is suitable for.
Clickback is now used by 1000 plus companies to accelerate their B2B growth.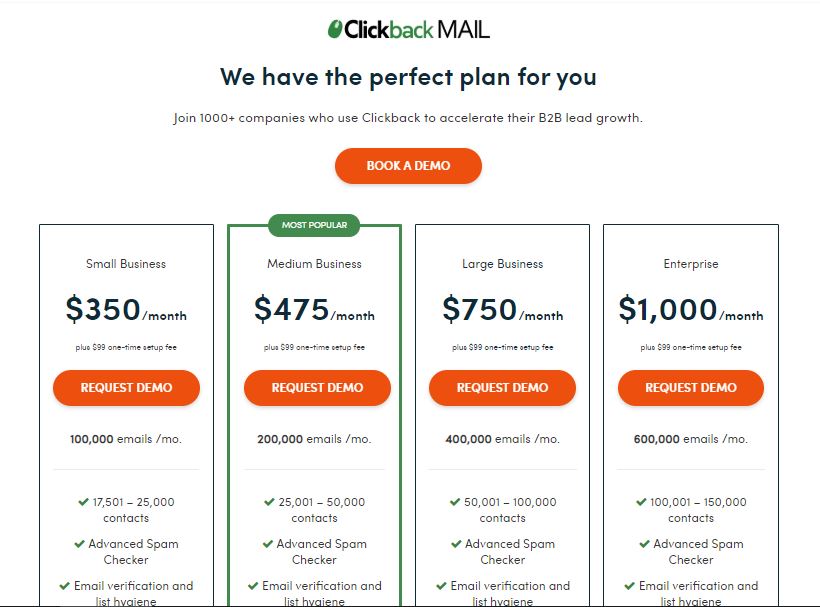 For small businesses; it offers you $350.00 per month in that you can have 100,000 emails 17,501-25,000 Contacts along with the spam checker and hygiene off the list and email verification
For the medium businesses; it offers you $475 per month . in this you can enjoy the privilege of 200,000 emails along with 25,001-50,000 Contacts along with an enhanced spam checker
For large businesses; it offers you $750 per month that comes along the right of 400,000 emails 50,001-100,000 Contacts email verification an advanced and enhanced email checker
For the enterprise businesses, it offers if you $1000 per month along with the privilege of 600 emails that comes along with 100,001-150,000 Contacts. It then provides you with email verification and an improved spam checker.
Log on : https://www.clickback.com/